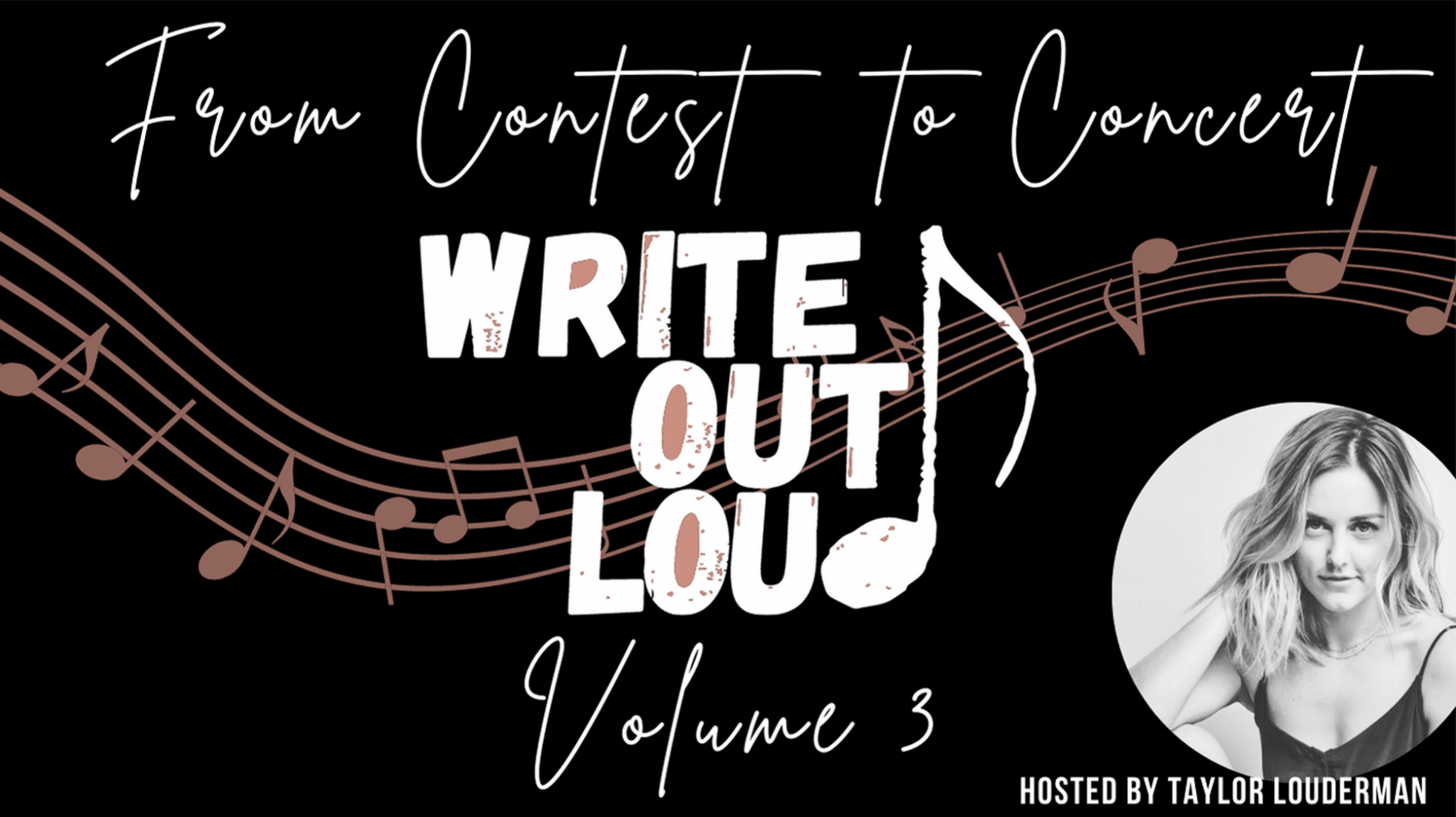 WRITE OUT LOUD: From Contest to Concert VOLUME 3, feat. Derek Klena, Arielle Jacobs, & More!
April 26, 2022
Write Out Loud Volume 3 has arrived! Hosted by Taylor Louderman (Tony Award® Nominee, Mean Girls), Musical Direction by Benjamin Rauhala (Disney Princess- The Concert) and produced by Hannah Kloepfer with Sarah Glugatch and Josh Collopy.
Write Out Loud is a celebration of new musical theatre writers. The team proudly presents the 2021 Write Out Loud Contest winners — Chloe Geller, Taylor Fagins, Kat Siciliano, Anna M Johnson, Matthew Peña — with selected finalists Grant Albright, Aria Braswell, Suzanna Champion, Vaibu Mohan, Rebecca Murillo, Jordan Silver & Luke Steinhauer, SMJ & Sarah Flaim, and Isabel Stein & Simone Clotile.
Joining the cast of Volume 3 are Jerusha Cavazos, Madison Deadman, Linedy Genao (Dear Evan Hansen), Arielle Jacobs (Aladdin, Between the Lines), Olivia Kaufmann (Mean Girls), Derek Klena (Anastasia, Jagged LIttle Pill), Hannah Kloepfer, Desi Oakley (Waitress), Gabriella Joy Rodriguez, Jillian Soares, Marina Pires, Gabe Violett (The Voice, Spring Awakening), Heath Saunders (Company), and Eleri Ward.
Past winners include: Matt Copley, Ethan Carlson, Alexander Sage Oyen, Kailey Marshall, Joriah Kwamé, Indy Angel, Brandon Michael Lowden, Mackenzie Szabo
Past Performers Include: Major Attaway (Disney's Aladdin), Jessie Hooker-Bailey (Waitress), Gerard Canonico (Be More Chill), Jerusha Cavazos (The Prom), Jason Gotay (Bring It On, Freaky Friday), Troy Iwata (Be More Chill),  Arielle Jacobs (Disney's Aladdin, In the Heights), Hannah Kloepfer (Pitch In), Andrew Kober (She Loves Me, Hair), Taylor Louderman (Mean Girls), Izzy McCalla (The Prom, Disney's Aladdin), Carrie St. Louis (Wicked), Shereen Pimentel (West Side Story), Presley Ryan (Beetlejuice), Caesar Samayoa (Come From Away), Allie Trimm (Bye Bye Birdie), Danielle Wade (Mean Girls), Teal Wicks (The Cher Show, Wicked).
Listen to the 2020 Winning songs here!
"Coffee in the Morning" by Matt Copley performed by Jeremy Jordan (Tony Award® Nominee, Newsies)
"Samson" by Ethan Carlson, performed by Ariana DeBose (Tony Award® Nominee, Summer: The Donna Summer Musical) and Taylor Louderman (Tony Award® Nominee, Mean Girls)
"Sang Along" by Alexander Sage Oyen, performed by Lilli Cooper (Tony Award® Nominee, Tootsie)
---
Please note that all artists and acts are subject to change at any time.
Proof of COVID-19 vaccination is required to enter the club.